Boxset Bargains To Be Had……….
It's been quiet again in the world of cheap DVD's but I've just stumbled across my 2nd favourite American show ( behind The Sopranos ), The Wire, in it's complete boxset form for a fantastic £40 from Tesco Entertainment. This contains series 1-5 and is available for next day free delivery. The next best price for this is a whopping £58.47 at Amazon. It doesn't usually drop this low, so it looks to me to be a must buy at this price.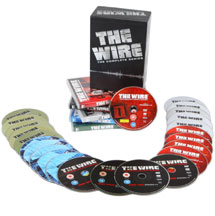 This critically acclaimed show focuses on the Baltimore police and their fight with the local drug dealers with the story being told from both sides. This is great stuff, the characters ( and there are many ), have a depth I haven't seen in a TV show since The Sopranos. The sharp dialogue and the many,many superb performances make this TV gold for me.
Next up we have the Pirates of the Caribbean Trilogy at HMV for £7.99. I know most people have either seen or got this but I just thought it was a pretty good price for all 3 films. It's £10 and upwards on other websites and with the Blu-Ray trilogy being at least £28, this looks good value.
Finally,  I've found Series 1-5 of Shameless for a crazy £9.99 from Choicesuk. I think they've made another 2 series after this but to get the 1st 5 series for £2 a pop is just too good to pass up.
This outrageous show follows the lives of the Gallagher family who live on a Manchester housing estate. With their mum disappearing years ago, it's up to the eldest daughter Fiona ( played by the brilliant Ann-Marie Duff ) to keep the family together. Also stars James McAvoy ( Atonement, Wanted, Narnia, Last King of Scotland ) in his 1st major role.