FRC Feature – Cinecity 2012 Schedule is released
Today is the first day of November, a month which has a few great things happening – My Birthday, Bonfire Night and of course the brilliant Cinecity Festival.
This year it is back for its 10th edition and is set to be the biggest one yet.
I have been lucky enough to be involved with the run up to the festival this year and you may or may not have noticed that they are running a POLL for the best films of the last 10 years. I have been posting weekly segments which can be found HERE. If you wantt o get involved with the POLL you still can simply by tweeting your top 10 films of the past 10 years ensuring you use the twitter hashtag #cinecity10th.
Earlier this week the guys at Cinecity HQ sent me though the schedule for the festival (after much digging in the ribs from yours truly I might add). It is looking VERY good indeed. I am intending to see ALL of the screenings at Dukes, work and family permitting. Also I am hoping to get around the city to see some of the other great events on too.
Here is the full schedule, CLICK HERE FOR A FULL SIZE VERSION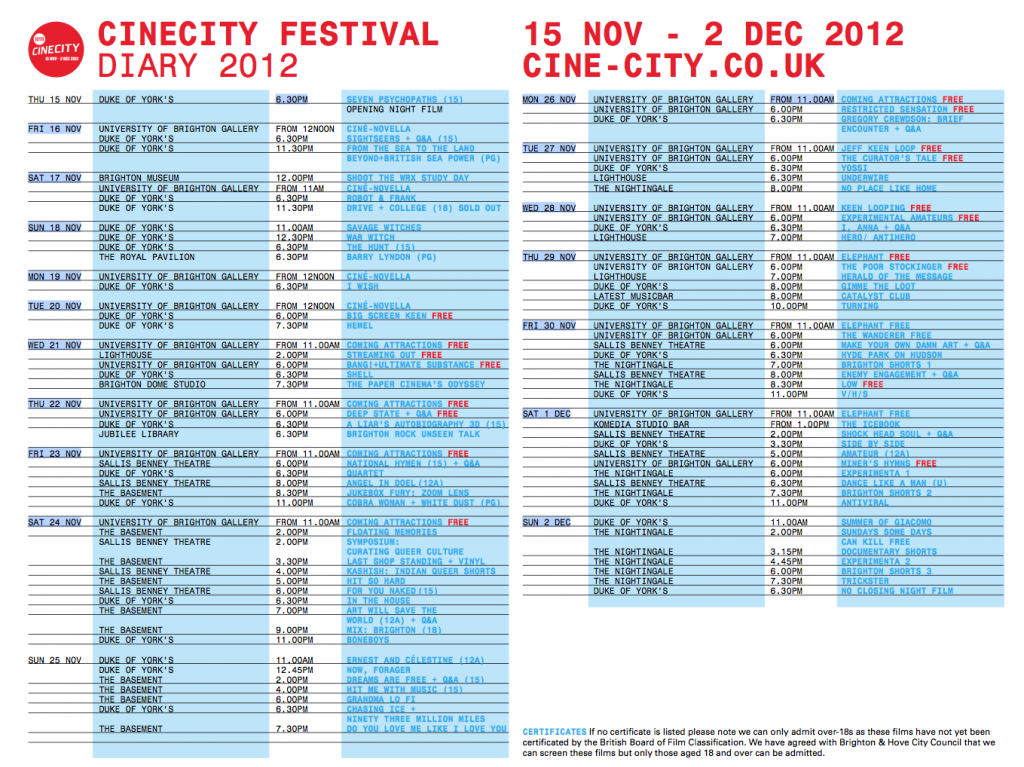 Highlights for me are.. 
Seven Psychopaths – Thurs 15th
The opening night is always going to be special, and after the sell out screening of SHAME last year this has a hard act to follow. Luckily I think this may be the film to do it.
Sightseers + Ben Wheatey Q&A – Fri 16th
I am a fan of Mr Wheatley. I loved Down Terrace and Kill List while it was a hard watch was undeniably brilliant. I have big hopes for his latest feature and have been itching to see it for ages. The fact that he will be attending to answer questions is a super added bonus!
Robot & Frank – Sat 17th
A film I have heard a lot about, and contributor here Mike P Williams recently gave it a 5 star review from when he saw it at LFF.
War Witch – Sun 18th
This is one I have heard about recently, and in a good way. Rachel Mwanza recently won the Best Actress Award at the Berlin Film Festival for her portrayal of a child soldier in the Congo. Looks a hard watch but compelling viewing.
Quartet Fri 23rd
The directional debut from Dustin Hoffman about a group of friends living in a retirement home for opera singers really intrigues me. The cast is a winner for me, any film with Maggie Smith in gets my vote!!
Ernest and Celestine Sun 25th
Again I heard a very good buzz about this film from friend who saw it at LFF, so I am pretty excited to see this one the schedule for Cinecity. It is so nice to see hand drawn animation do well in a world of CGI
I, Anna – Wed 28th
This is an intriguing one. I have seen many mixed reviews and it would seem that this is a film that polarizes people. A Noir thriller that is told from the stand point of the femme fatale. With a strong cast, and a directional debut, what could go wrong?
Hyde Park on Hudson – Fri 30th
The story of the secret affair between Franklin D. Roosevelt and his cousin Margaret Suckley. This is set to be a witty and entertaining period drama starring Bill Murray and Laura Linney.
V/H/S – Fri 30th
One for my wife. She is desperate to see this, I however am not looking forward to it. Only because I am a big scaredy cat!! This looks a brilliant take on the genre and a massive nod to the video nasty generation form the 1980s
Side by Side – Sat 1st Dec
This is a documentary that has been on my radar for what seem like eternity. I am so over the moon that I am finally going to see it. Looking at the rise in digital technology and its overall impact on cinema. It has a who's who of hollywood in the cast from James Cameron to Lars Von Trier. CAN NOT WAIT!!
No – Sun 2nd Dec
One of my favourite actors (mainly for his turn in Bad Education) Gael Garcia Bernal stars in this 1980s period piece. Full of humour and one of the most interesting choices of aspect in modern cinema. This looks great
There we have it, my picks. But that is only the tip of the ice berg for the festival. Please check the website HERE for more details on what is going down in Brighton Town between 15th November and 2nd December and to buy tickets!!
Did you enjoy this article? If so, we'd love to hear your thoughts in the comments below. It would be great if you

LIKED our Facebook Page

or

Followed us on Twitter

to get more goodness. There's lots more where this came from!